A tour of the most geeky shops in Madrid
Madrid is a box of surprises. The city offers leisure and culture for all tastes. Today, we are bringing you a selection of the nerdiest shops in Madrid. So, if you are a fan of Harry Potter, Pokémon or video games, you will love this post.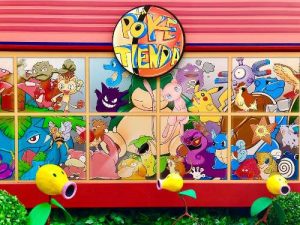 Located in the X-Madrid shopping centre in Alcorcón, La Poketienda is the perfect place for Pikachu fans and collectors. It sells all sorts of merchandise from the Pokémon world, such as cards, sweets, comics, mugs, stuffed toys, games, and more.
In the same shopping centre as La Poketienda, this shop is aimed at fans of the most famous wizard in history, Harry Potter. You will find products such as wands, special editions of the books, clothes and even the Nimbus 2000! Besides, it is well worth a visit just to see the shop, as the more than 200 square metres of space are perfectly decorated to make you feel as though you are immersed in J.K. Rowling's magical world.
We continue in X-Madrid with another special shop called Yo Fun tu Fan. It is a paradise for fans of Pop! and all the other figures by the Funko factory. You will find more than 6,000 different figures on sale, including film characters, superheroes, painters, athletes, musicians and more.
Another essential stop on our tour is Naruto's Shop, a space that emulates Ichiraku Ramen, the popular ramen stall featured in the series. This shop sells all the official merchandise for the famous manga series written and illustrated by Masashi Kishimoto. If you are a fan of the ninja Naruto Uzumaki, this is definitely the shop for you.
We finish with a suggestion for those with a sweet tooth. In this supermarket, we find the nerdiest products imported from America, Japan, China, and other countries. You can buy Willy Wonka's chocolates with the famous golden ticket inside, Valyrian Fire liquor from Westeros, Pokémon cereals, Chupa Chups soft drinks and the famous fortune cookies we have seen so many times in American films. This shop can also be found in the X-Madrid shopping centre.
This is a geeky tour that is sure to impress. Have fun while shopping for products featuring characters from your favourite series.
*Image from Time Out.
Categories: Shopping Madrid
« Enjoy the sales at the new Oasiz Madrid Shopping Centre
The best places to eat calçots in Madrid »