Learn how to cook the best Italian food (now online)
One of the best international cuisines is Italian. Our menu includes plenty of pizza and pasta. If you are a lover of Italian cuisine, we have an event in Madrid that you will love.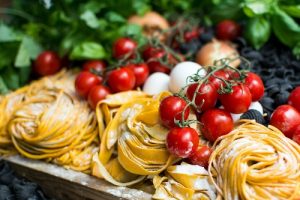 Photo by Jakub Kapusnak on Unsplash
The Italian Chamber of Commerce and Industry for Spain has organised the activity 'The Authentic Italian Table' on 22nd September, in which you can learn all the secrets of Italian cuisine. However, this year, due to Covid, it will not be possible to hold the event in person, so it will be an online event.
In this event we will be able to learn about the Italian cuisine from five regions in the country: Lombardy, Le Marche, Emilia-Romagna, Tuscany and Calabria, as well as the most typical products and dishes of these areas such as Pecorino Toscano Val d'Orcia PDO, Caciocavallo, Taleggio and Gorgonzola PDO cheeses, Calabrian sausages, pizza and pasta.
A wide variety of activities
The event will start at 12 noon and will be broadcast live on the ZOOM platform. It is totally free, but to access it you need to fill in this online form. Once completed, they will confirm your attendance and send you the login details. Remember that places are limited.
What will it include? A masterclass, live cooking and contests to learn about the benefits and the taste of one of the best cuisines in the world. These activities will also be run by different professionals from the agri-food sector working in Spain.
With the participation of well-known influencers
One of the most interesting activities of this edition is that we will be able to enjoy this gastronomic experience with prominent Italian influencers who will tell us interesting facts and anecdotes about the Italian cuisine.
Even a competition
This event will also reward the best chefs. Of all the recipes taught to us by some of the best chefs in Italian restaurants, you can replicate one of them and post the result on social media.
From all the participants, there will be a draw to win a pack of 10 lunches/dinners (with a value of 99 euros) in all the restaurants that are part of this initiative. If you are interested in participating, please read the contest rules.
An authentic gastronomic experience for the best foodies where you can really get to know Italian cuisine.
Categories: Gastronomía Madrid
« Everything you need to know about Bulevarte in Puente de Vallecas
Madrid's Little Italy »