Discover the best natural pools in Madrid
Who says there's no beach in Madrid? Although the capital of Madrid is quite far from the coast, there are several natural sites where you can cool off during the summer within a few kilometres from the city. Want to find out more?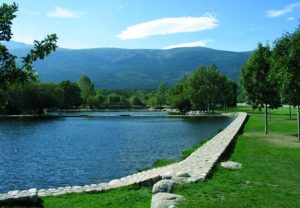 These natural pools in the El Paular Valley are located in Rascafría, less than 100 kilometres from the city. Access to the area is free, you only have to pay for parking. In this area, we find three pools surrounded by pine trees. It's perfect for a family day out as there are grassy areas where you can sunbathe or enjoy a picnic. There is also an area with benches and stands selling food and drinks.
Although these pools were completely natural in origin, they are now treated with chlorine. The complex is located in the Fuenfría Valley and covers an area of around 30 hectares. There are showers, toilets, a bar, a first aid point, grassy areas and two large pools. In addition, there is an adventure park in the trees. You can spend the whole day there as you are allowed to take your own food and drink, and there is a picnic area.
This natural pool in Buitrago de Lozoya owes its name to the water it receives from the Riosequillo reservoir. It is the perfect area for a fun summer day with all the necessary ingredients: one of the largest natural pools in Europe, recreation and rest areas with grass and tables, a children's area, sports courts and a snack bar. There is also a car park. Riosequillo is a unique setting where you can enjoy beautiful panoramic views of the Sierra Central of Madrid.
Located near Rascafría, these pools are in the Arroyo de Aguilón, a tributary of the Lozoya River. The route is about 6 km long, and includes two waterfalls, Baja, with a height of 10 meters, and Alta, about 200 meters upstream. Along the way, you will find several pools where you can swim.
Four refreshing ideas for combatting the heat of Madrid and enjoying a fun day out with family or friends.
Categories: Verano Madrid
« Discover the best ice creams in Madrid this summer
The most entertaining museums in Madrid »