The most entertaining museums in Madrid
The cultural life of Madrid goes beyond the Prado, Reina Sofía and Thyssen art galleries. The city offers a wide variety of museums for all tastes and ages. Today, we're bringing you the most entertaining museums in the city, perfect for enjoying with little ones or with friends.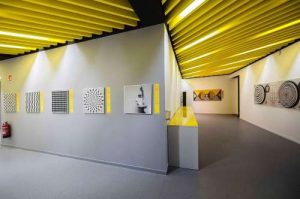 "If a picture is worth a thousand words, be sure that an illusion hides more than a million." The Museum of Illusions in Madrid, in the heart of the city, is a journey through the world of illusions that is suitable for all ages. During the visit, you enter different rooms where you can immerse yourself in games of perception, optical illusions, holograms and even defy the laws of gravity.
One of the most enjoyable areas is the Smart Games Room that helps to stimulate cognitive thinking and strategic skills. It includes a variety of new and old games that include puzzles, jigsaws, construction games and mathematical games tailored to different age groups. Finally, do not leave without visiting the Smart Shop, which sells more than 80 dilemma games, wooden puzzles, construction games and educational toys.
This museum for those with a sweet tooth is in the ABC Serrano shopping centre. It's an interactive tasting adventure full of innovative experiences and lots of fun, using all the senses. At the Sweet Space Museum, you will find guided activities, interactive installations and special surprises. The visit includes a total of nine themed rooms, where you will find cotton candy palms, a Töto ice cream laboratory, a chupa chups waterfall and a candy forest. It also has a shop where you can buy unique sweets.
Several artists have collaborated in this sweet museum, such as Agatha Ruiz de la Prada, who created her own version of the sky using sweets; Okuda San Miguel, author of a slide that transports us to a parallel world; Antonyo Marest, creator of incredible sugar clouds; Ivanna Gautier, who devised a video game rocket; and Christian Escribá, who designed a candy forest.
These two museums are not well known but they are lots of fun for the family! Enjoy a unique experience!
Categories: Cultura Madrid
« Discover the best natural pools in Madrid
Where can you find the best Spritz in Madrid? »