Discover the world's largest inflatable park in Madrid
In today's post we are sharing a really fun idea that is perfect for all those who want to go back to their childhood. It is perfect for an afternoon of laughter with friends or family. The largest inflatable park in the world can now be found in Madrid.
Big Jump Park is located in the TresAguas shopping centre in Alcorcón. It offers a unique experience with giant slides, ball pools, climbing inflatables, obstacle courses, rock climbing, jumping and free fall areas, quicksand, football, basketball and volleyball courts, and food trucks, among other attractions.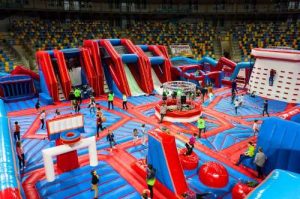 The inflatable park arrived in Madrid in December after its success in Vigo. For the moment, it is open temporarily, until mid-June, so if you want to enjoy it, don't delay in buying your ticket. You can choose between a half-hour ticket (7 euros) and a one-hour ticket (12 euros). Disabled persons and large families receive a discount. But please note that the minimum height is 1 metre and the minimum age is 4 years.
Only Adults Party
If you want to relive your childhood, Big Jump Park offers you the opportunity to enjoy this inflatable park like a kid at their Only Adults Party. Every Friday and Saturday, from 21:10 to 22:40, it hosts a party session with guest DJs where you can jump and dance at the same time. In addition, on Thursdays, they also put on a University Party for students. Both sessions last an hour and a half and cost 15 euros.
Celebrate your birthday
You can also celebrate your children's birthdays at this giant bouncy castle. For less than 20 euros, you can enjoy 60 minutes at the Big Jump Park and a private tea party where you can choose between a menu from KFC or Domino's Pizza.
With this activity, laughter and fun are more than guaranteed for the youngest members of the family and for those adults who still feel like Peter Pan.
Categories: Deportes Madrid
« Ideas for St Patrick's Day in Madrid
Three ideas for a unique May bank holiday in Madrid »