Is Calle Ibiza the new Ponzano in Madrid?
If we think of the most gastronomic and popular street in Madrid, surely the first thing that comes to mind is Ponzano. However, in recent months another one is competing with a gastronomic proposal that is gaining more followers every day. Do you know which area we are talking about?
This new gastronomic paradise is located on Calle Ibiza. And part of this success is due to the new culinary project known as Bulbiza, in which a group of entrepreneurs have participated, among which we find chef José Andrés. It is located between Máiquez and Fernán González and in it we can find a wide variety of high quality proposals.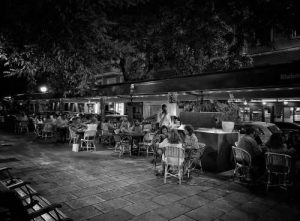 The grill is its hallmark, and we are talking about a brick grill that works as an oven and concentrates a very high temperature inside. That is why their roasts are spectacular. Its menu includes dishes such as national beef steak accompanied by roasted piquillo peppers according to Julián Rivas' recipe.
This restaurant was born with the idea of being an "eatery". That is why in its menu we find homemade yet modern cuisine. Proposals such as Iberian ribs with potatoes, cod meatballs, Manchego roast, hake in green sauce or chicken in pepitoria sauce stand out. They have also created the #elcocidodetodos movement, consisting of several chefs bringing their stew proposals to this restaurant. Nonetheless, we will have to wait for next winter to enjoy it.
In its non-menu, since its cuisine depends exclusively on what is on the market and seasonal products, you will find grilled seafood and fish, seafood stews and surf and turf combinations. You will enjoy a delicious meal in a cosy place and a counter full of seafood and fresh fish.
La Retasca is a tribute to the typical Madrid tavern. It offers a fun and tasty culinary offer in a place with very good vibes. In its menu you cannot miss dishes such as the tortilla, a varied proposal of canned food and pickles, mini sandwiches, croquettes, ear and bravas, among others.
Enjoy artisan ice creams with unprecedented flavours. In its menu you will also find other proposals such as waffles, cream puffs, biscuits and other sweet treats by Ricardo Vélez. The best option to beat the summer heat.
If you have not been to Bulbiza yet, the time has come for you to take a walk along Ibiza street and discover these delicious gastronomic proposals for all tastes.
Categories: Gastronomía Madrid
« The best routes in Madrid to go by bike
The Strawberry Train returns to Madrid »