The Strawberry Train returns to Madrid
Those of us lucky enough to live in Madrid are particularly fond of September. The city is once again filling up with locals returning from the beach, the weather is mild enough to make outdoor activities enjoyable, and there is a wide range of leisure activities to choose from. Today we bring you a unique plan for the whole family: the Strawberry Train. Have you heard about it?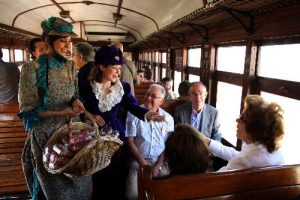 A train with a long history
The history of this train dates back to 1851, when Isabel II inaugurated Madrid's first railway line (the second in the entire peninsula) with the aim of linking the Royal Palace of Aranjuez with the capital. However, the Strawberry Train, as we know it today, only began operating in 1984. And why that name? It is called that way because the staff, who wore period dresses, used to offer you strawberries to enjoy throughout the journey.
The train is headed by a 289-015 electric locomotive, an historic engine from the 1970s that belongs to the local Railway Museum. Then comes a second-class passenger carriage from the 1940s and two wooden carriages known as 'Costa', built between 1914 and 1930.
New season
Like every year, the Strawberry Train is starting a new campaign. This year's edition kicked off on 19 June and ends on 31 October. If you want to take this trip back in time, you can do it every weekend from 18 September to 31 October. It departs from the Railway Museum at 10.00 am and arrives in Aranjuez at 11.00 am. The return journey is at 6.36 pm, arriving in the capital of Madrid at 7.30 pm.
This year you can use a new app with lots of information about the train, its history and the tourist activities available in Aranjuez, a city declared a World Heritage Site.
A journey into the past that is sure to please the youngest members of the family and that will allow us to visit one of the most beautiful municipalities in the Community of Madrid.
Categories: Cultura Madrid
« Is Calle Ibiza the new Ponzano in Madrid?
Pasea Madrid is the best way to discover Madrid »