Three plans for December Bank Holiday family fun
There are only a few days to go until one of Spain's most long-awaited Bank Holidays of the entire year – the December long weekend. Many people take advantage of these five days for tourism, or they try and get a head start with Christmas shopping. If you are heading to Spain's capital to enjoy a pre-Christmas break, be sure not to try out these three ideas for some guaranteed family fun.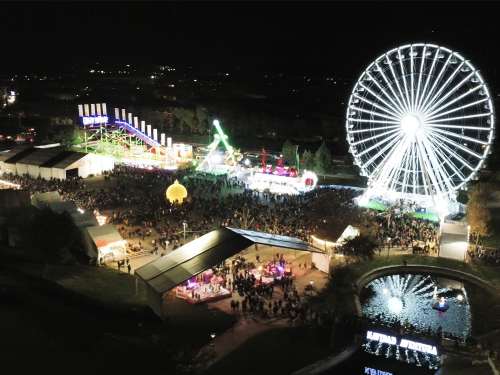 Events are returning gradually to the region and one of the most long-awaited plans is the 'Magical Christmas' event hosted by the Torrejón de Ardoz fairground. Between the 19 November and the 7 January, you can enjoy one of the most long-waited children's festive events. One thing that has changed this year is the limited capacity, so you will need to book in advance. Residents of Torrejón de Ardoz are exempt from paying an entrance fee, while all other visitors will be charged for entry.
Magical Christmas offers rides for children and families, including the giant Ferris Wheel, Christmas village, Christmas decorations, Christmas markets with typical and handcrafted products, shows like the Magic Door (Puerta Mágica – the great light and sound show from the Italian company Mariano Light), and the Lights Boulevard, a fantastic trail with thousands of sparkling lights.
The Madrid's sweetest museum offers us an immersive experience, where you will move between different themed rooms with exhibitions designed to stimulate all your senses. All of these were designed by prestigious Spanish and international artists such as Agatha Ruiz de la Prada and Okuda San Miguel.
What will you find in this museum? A journey of discovery through 10 interactive rooms, spread across 2 floors offering perfect opportunities for family photos, a sweetie forest, a lolly waterfall, or a Töto Ice Cream factory, and much more. The best part, is that you can smell, touch, and taste many delicious different products.
This museum is in the ABC Serrano shopping centre and has a gift shop for visitors with a sweet tooth, offering a wide variety of original sweets (you can also come to the gift shop without visiting the museum). Click on this link to buy your tickets.
Kids can enjoy Europe's biggest Lego® constructions. Head to Plaza Río 2 shopping centre from the 3 November to check them out. It has a surface area of more than 1500 m2, more than seven million Lego pieces and more than 100 models, including an 11-metre-long and 3-metre-wide Titanic, or a famous Madrid monument such as the Bear and the Strawberry Tree. It also has a special area just for children: the Fun Park, where they can make their own Lego figures.
Three fun plans where kids are the stars of the show. If you are looking for something to do with the family at Christmas, we will soon publish a guide with all of Madrid's unmissable 2021 events.
Categories: Cultura Madrid
« The best veggie restaurants in Madrid
Enjoy the sales at the new Oasiz Madrid Shopping Centre »