The best veggie restaurants in Madrid
Vegans and vegetarians are in luck. Madrid is now offering more and more meat-free dining options, so if you are veggie or vegan, or if you simply enjoy trying different options, read on – this post includes three unmissable restaurants to add to your list of favourites.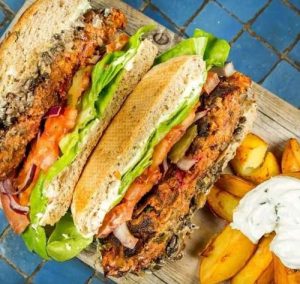 Don't get confused by its name – Viva Burger has become one of the city's best vegan restaurants. There is a curious story behind this place, concerning its owner, Mada Madariaga. At the age of 20, she stopped eating meat at a time when everyone thought that vegetarians only ate lettuce leaves, yet her passion for cooking inspired her to open a clandestine restaurant on the terrace of her house. She now owns a meat-free burger bar, which has become a delicious alternative to gourmet burger bars.
All the burger "meat" is made fresh each day in her kitchen, and is 100% vegetable-based (leeks, mushrooms, onions, garlic, beetroot, carrot, cabbage, parsley, apples, and nuts). All the bread is wholemeal, baked in the local bakery. Our favourites include the Blue burger, with blue cheese and mushrooms, or the Italian Burger with basil sauce and smoked cheese. The restaurant also serves salads and wraps, and you can't leave without a delicious dessert of tiramisu, carrot cake or chocolate tart.
Over the last few years, avocados have gone from being a product that hardly anyone had heard of to a key ingredient in many of our meals, thanks to their delicious flavour and nutritional properties. Avocado Love is a vegan and gluten-free restaurant where avocados are the star ingredient in every dish.
Don't miss the restaurant's specials, such as avocado and aubergine hummus in agave tempura. Tempura avocado. Long live Mexico Veg! (Chilean style heura stew chipotle with guacamole and corn tortillas), gnocchi with boletus and truffle carbonara. Heura and avocado curry with black wild rice, Jack Daniel's smoked avocado grill, or Thai salad. Don't leave without trying a delicious dessert of Tchite chocolate, lime, and avocado Twister.
In Mandarina you can enjoy an exquisite selection of vegan dishes, made with passion. All dishes are made with 100% vegetable-based ingredients, representing a fusion of traditional recipes with the best international cuisine. The menu includes a wide variety of options such as vegan cheese croquettes, corn dogs, Mexican bowl, veggie meatball pasta, tofu skin ribbons or boletus and truffle risotto. Mandarina is also famous for their homemade bread and vegan desserts, including banoffee pie and lemon tart.
These three restaurants show us that veggie-based food is not at all boring. On the contrary, vegan cuisine is colourful and tasty. Have you tried any of these three restaurants? If not, make a date.
Categories: Gastronomía Madrid
« Three fun things at the Almudena festival in Madrid
Three plans for December Bank Holiday family fun »