2 restaurants in Madrid that promise fun and entertainment
The new concept of combining dining and entertainment, known internationally as 'dinner shows', is gaining popularity in the capital of the Madrid region, with the result that more and more local restaurants are jumping on the bandwagon. Today we bring you two proposals where, in addition to a unique gastronomic experience, entertainment is guaranteed.
Salvaje Madrid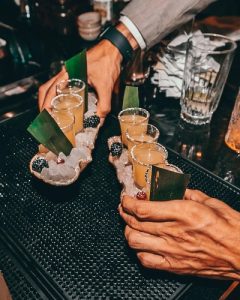 Located right on Calle Velázquez, this restaurant has become one of the pioneers in the fusion of culinary arts and entertainment. While its menu is characterised by exotic Japanese signature cuisine, its creators guarantee an all-around experience for those wishing to "eat well and have a good time". To this end, Salvaje Madrid offers a live show featuring singers and circus performances accompanied by DJ music in an effort to create a unique party vibe. The menu offers a wide range of Asian-inspired dishes the likes of sushi, charcoal-grilled meats and fish, Japanese tacos and wok dishes, and the experience is rounded off with a signature cocktail bar – the perfect choice for a unique evening.
Falling leaves
This new fusion of dining and entertainment in Madrid offers a unique experience that combines music, casino action and fine dining. Located within the Bingo Roma facilities is a 900+ m2 space with a capacity for 350 people offering the finest in Mediterranean cuisine combined with performances and casino action. The menu features dishes such as octopus fritters with yakiniku sauce; grilled artichokes with egg yolk, black garlic, Idiazabal cheese and powdered ham; baby cuttlefish in their own ink with baked rice; Iberian pork shoulder with cauliflower parmentier, or sea bass with black butter and grilled vegetables. For dessert, don't miss the caramelised torrijas (Spanish-style French toast) with nougat ice cream or the Nutella coulant with biscuit ice cream.
The Sunday 15€ brunch menu includes coffee, fresh-squeezed juice, a bowl of yoghurt, granola and fresh fruit, a first course with a choice of avocado, salmon and rocket toast or eggs benedict on brioche bread, carrot cake and Bellinis.
Two unique culinary experiences that combine haute cuisine with entertainment and leisure. These two restaurants are perfect for a fun evening, either with friends or as a couple.
Categories: Gastronomía Madrid
« Find out where to get the best burger in Madrid
3 ideas for a unique Valentine's Day in Madrid »