Find out where to get the best burger in Madrid
In 2022, Cesar's Burgers, the burger restaurant by chef César Peña, winner of the last edition of the Spanish Burger Championship, opened in Madrid. If you haven't tried it yet, you really should.
The inspiration for this new burger restaurant came from César Peña. It all started many years ago when he got an electric grill for Christmas, and although he didn't know it at the time, it changed his life. After working for several years in other restaurants, he decided to open his own.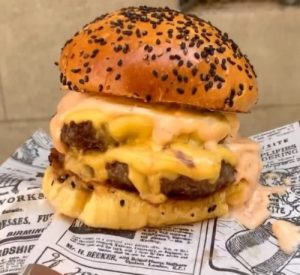 There are only three fixed burgers on the menu, however many different offerings are added at different times of the year. They all have one thing in common: seared on the outside, rare on the inside. The star of the menu is the Campeona 2.0, an updated version of the award-winning burger with Rubia Gallega beef, Sierra de Madrid bacon, American cheese, seeded brioche bun and an original secret sauce. In the words of its creator, "I've improved the concept".
The second burger on the menu is 'La Vegetariana', which contains two Beyond Meat patties, cheddar cheese, secret sauce, seeded bun and pickled gherkins. And the final option is the 'Brava', with Rubia Gallega beef, smoked cheddar, crispy pig's ear and Brava sauce.
Some of the more original creations that have appeared on the menu include the Kinder Bueno burger (Rubia Gallega beef, cheddar cheese, exclusive Pan y Pan 2.0 bread, hazelnut and white chocolate cream and two sticks of Kinder White) and the special pepperoni burger with heaps of cheese.
As well as burgers, the menu also includes delicious desserts. Our favourite is the American white chocolate and hazelnut cookie, which is made in house and comes with a cup of milk for dipping. It's crunchy on the outside and soft on the inside.
If you love burgers and like to try new flavours, Cesar's Burgers is the place for you.
Categories: Gastronomía Madrid
« Three Christmas activities for the whole family in Madrid
2 restaurants in Madrid that promise fun and entertainment »