Bars in Madrid with their own beach
We all associate sunsets and summer nights with beach bars. Although Madrid is not on the coast, there are a wide variety of leisure and dining options that can rival those at summer resorts. Today, we present three bars where you can have a cocktail as if you were by the sea.
In the X-Madrid shopping centre, we find this restaurant that makes you feel as if you were on the beach. It has a varied menu with dishes from different types of international cuisine such as Mediterranean (tuna salad and artichoke confit with bacon), Asian (prawn gyozas and squid crackling pan bao thai), Italian (pizzas and tiramisu) and Mexican (nachos with pico de gallo). They also have a children's menu (with panko chicken and hotdogs).
They also offer different types of leisure activities such as DJ sessions in the evenings, volleyball tournaments and other sporting activities. Don't leave without sampling one of their famous cocktails such as Xiringuito X (Tanqueray, strawberries, lemon juice, sugar syrup and ginger beer) and Jager Mojito (Jagermeister, lime, mint and brown sugar).
This Venezuelan bar is perfect for enjoying a summer afternoon on its internal terrace with open roof and sand. It is located in the heart of the city and offers Mediterranean cuisine with a Caribbean twist. The menu features Venezuelan arepas with more than 10 different fillings. There are also other dishes not to be missed such as the starter 'entre que caben 100' (a wooden boat with a selection of their most popular starters: tequeños, gyozas, japan crunch, coquitos, wakame and edamame); main dishes such as the Grama grill (different meats with arepitas, queso de mano, tostones, yucca or chips, mixed salad and their traditional mojo), their sushi dishes and the Grama Burger. They also offer three types of brunch: American, Venezuelan or avocado on toast.
One of its main specialities are signature cocktails including Sexy Madrid (strawberry, watermelon, lime, vodka, Cointreau and cranberry juice); Aperol Sour de Mango (white rum, lime, Aperol and mango); and Kiwi Kiss (lime, white wine, Triple Sec and soda).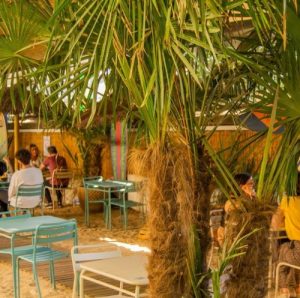 Next to the Temple of Debod, we find this beach club that has nothing to envy of those by the seaside. It has more than 1,000 square metres of sand, palm trees, sun loungers, parasols and surfboards. It offers a very original menu with fresh and tropical touches. Don't miss the avocados stuffed with black quinoa salad, the red tuna tataki with pisco honey and mirin, the different types of tacos (cochinita pibil and chipotle chicken), or the pulled pork sandwich. And for dessert, you can't leave without trying the mango mousse ingot on sponge cake and mint.
At the beach club, you can also enjoy good music while sipping a delicious cocktail such as the Spicy Mango (tequila, spicy mango and red chilli mix, lime juice and almond liqueur) or the Kiss of the Dragon (rum, pithaya or dragon fruit mix, kiwi and lime).
Three places where you can enjoy a classic beach bar without leaving Madrid.
Categories: Verano Madrid
« Three refreshing ways to beat the heat in Madrid
Family plans for the summer in Madrid »