Family plans for the summer in Madrid
We spend the summer thinking about things to do with the little ones when there is no school and they have a lot of free time. The nice thing about this time of year is that you can spend quality time with your children without rushing around. If you're in Madrid this summer, don't miss out on these three family activities.
Water jets in city parks
There are many parks that are designed to help you tackle the sweltering summer heat. Today, we present two places where the little ones can put on their swimming costumes and enjoy splashing about in water jets coming out of the ground.
The first of these is the recently opened Miguel Ángel Blanco Park in Boadilla del Monte. It has a surface area of 26,000 m2 and four play areas for different ages. One of them features water jets, perfect for cooling off the little ones on the hottest days of the year.
The other place where you will find water jets is Madrid Río, in the area known as the "beach". Here you can have fun playing among the jets and water mist. It is the ideal place to escape the Madrid heat.
Summer cinema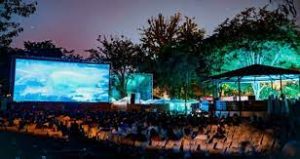 Watching a film under the starlight is the latest craze in Madrid, especially in the summer. In Madrid, there are many different options for outdoor movies, such as Fescinal in Bombilla Park, screening the latest releases of the Minions and Buzz Lightyear; Autocine Madrid, which is showing 'Padre no hay más que uno 3'; and Cibeles de Cine, where you can see the latest Disney film 'Encanto'. This is an activity that is guaranteed to appeal to children and adults alike, and it will be even more perfect if you throw in some tasty popcorn.
Multi-adventure parks
Madrid is a great destination for nature lovers. And if your children love the outdoors, a multi-adventure park is the perfect choice for a fun summer day out. Zip-lines, climbing areas and different routes for all ages can be found at these multi-adventure parks in Madrid: Aventura Amazonia Cerdecilla (with areas with up to 6 levels of difficulty), Multiaventura Torremolino (the first urban treetop adventure park in Spain) and De Pino a Pino Navacerrada (gigantic zip-lines, swinging bridges, nets and an extreme circuit for the most daring).
Three suggestions for a unique summer with the family. Which do you like best?
*Image taken from www.enmadridrio.es.
Categories: Cultura Madrid, Deportes Madrid, Naturaleza Madrid
« Bars in Madrid with their own beach
La vera pizza napoletana can be eaten in Madrid »