Three refreshing ways to beat the heat in Madrid
In summer, what we most want are refreshing ways to beat the heat. Although there is no beach in Madrid, there are a wide variety of surprising ways to cool off, including pools, water parks and even a sandy beach. If you want to find out more about them, don't miss this post.
Summer beach at Oasiz Madrid
Madrid's most spectacular shopping centre never ceases to amaze us. Oasiz Madrid, located in Torrejón de Ardoz, opened its own beach in July. It covers more than 6,000 square metres and has a swimming pool and a sandy area where the little ones can play with their buckets and spades while the grown-ups sunbathe. This is an experience that will more than make up for the lack of beach in the city.
Water parks in Madrid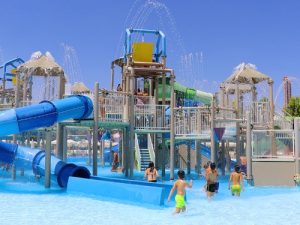 There are two water parks in Madrid where you can enjoy a refreshing and fun day out. The first is Warner Beach Park, where you'll find a variety of attractions and water slides. There are gentle attractions such as Baby Olas (a wave pool for the little ones) and Agua Ventura (an island with slides and water jets), moderate attractions such as Batman: La Sombra del Murciélago (an adventure in the dark with drops, twists and turns) and The Joker: El Tubo de la Risa (where you can challenge the Joker by falling down a giant funnel); and intense rides, with highlights such as Wonder Woman: El Lazo Mágico (an adventure where you'll be thrown into the void).
Aquópolis is the second water park in Madrid where you will also find a large number of water attractions and even a beach where you can relax and sunbathe. The attractions are divided into thrill rides, such as the spectacular Waikiki Jungle (where you will enjoy a great adventure in the Waikiki jungle where monstrous creatures live) and the Boomerang (not suitable for people with vertigo, as you will experience the feeling of falling into a void); moderate attractions such as Estanque Dorado (a large pool with a tropical feel where you can swim peacefully with your companions) and Pistas Blandas (a slide with different lanes where you can slide quickly); and children's attractions such as Mini Waikiki (mini version of Waikiki Jungle) and Mini Park (with water jets and slides for the little ones).
Club Deportivo Somontes Swimming Pool
If you're looking for a swimming pool in Madrid where you can relax and escape the hustle and bustle, the swimming pool at Club Deportivo Somontes is the perfect place for you. It has two Olympic-size pools, two paddling pools for the little ones, more than 18,000 square meters of lawn, a premium area with parasols, and a restaurant area with its own kitchen and an ice cream stand. It is the perfect place to spend a hot summer day.
Do you know of any other great ways to beat the heat in Madrid?
Categories: Verano Madrid
« Where can you find the best Spritz in Madrid?
Bars in Madrid with their own beach »