3 exhibitions you cannot miss in Madrid
If you are looking for a safe cultural plan in the Spanish capital, here are three exhibitions you can visit without a worry on your mind. Some are perfect for the whole family and others are more suitable for groups of friends or couples. Which do you prefer?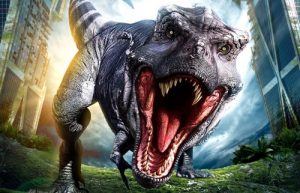 An activity for the whole family. Saurios invites you to live a unique experience by plunging you into the wonderful world of dinosaurs. This exhibition is more than 4,000 square metres large and contains more than 100 dinosaurs. It is in Escenario de Puerta del Ángel and will be open from 17 December until the end of that same month. Go on a thrilling expedition to meet these life-size dinosaurs. But don't worry, you won't be alone: you will go on this journey with Amador, El Capitantán and Mini-mo. Discover the story of the most famous dinosaurs like the triceratops, the tyrannosaurus rex or the velociraptors. Live a real adventure like the one experienced by the heroes of Jurassic Park.
The Círculo de Bellas Artes is the home of "Banksy. The street is a canvas", the British artist's second large exhibition in Madrid after the one that took place in Ifema last year. This exhibition brings us closer to the controversial artistic universe of one of the most influential creators of our times. Here, you can see unique works created with a variety of techniques: oil or acrylic on canvas, spray on canvas, limited edition serigraphs, stencils made on metal or concrete, sculptures, installations, videos and photographs. Most of these works are from international private collections and are being shown in Madrid for the first time.
You can visit this exhibition from December 3 until 9 May 2021. The price of admission is 15 euros and 8 euros for children between the ages of 4 and 12 (children under 3 enter for free).
Art enthusiasts are in luck with this exhibition that can be visited until 14 March 2021 in the Thyssen-Bornemisza Museum. It is one of the first art shows that commemorates the centenary of the birth of Hans Heinrich Thyssen-Bornemisza. It all started back in 1961, when baron Hans Heinrich Thyssen-Bornemisza first bought a watercolour by Emil Nolde. From that moment on he started to collect works of all the most important artistic movements of the 20th century. This exhibition brings together for the first time the Expressionist works of his collection. The price of admission is 9 euros, or 6 euros if discounts apply.
Three exhibitions for different audiences that are a good and safe way to spend some time in the city.
Categories: Cultura Madrid
« The best neighbourhood cinemas in Madrid
The best soundtracks in Madrid by candlelight »