The best neighbourhood cinemas in Madrid
Not long ago we heard the news about a new neighbourhood cinema opening its doors in Arganzuela, Madrid. A story that took us all by surprise as old-school cinemas are gradually disappearing from the centre of the Spanish capital and moving to the outskirts. Today we are going to explore the city's most popular neighbourhood cinemas.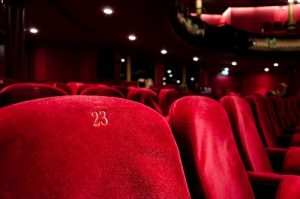 Photo by Kilyan Sockalingum on Unsplash
These new cinemas in Glorieta de Santa María de la Cabeza are the most recent additions to this list. Set in the headquarters of a banking institution, this project has 3 screens where people can watch both indie movies and the latest releases. In the words of its managers: "the people that work in this cinema dream about a cinema where they can project the movies they want and replay those classic films that left a mark on all of our hearts."
Renoir cinemas are known for not only screening the latest releases in Spanish but also in their original language. And in Spain, not many cinemas offer this possibility. There are a total of three cinemas in the city of Madrid: Cines Princesa, Renoir Retiro and Renoir Plaza de España. They are old-school neighbourhood cinemas with small, cosy rooms where every time we go to watch a movie, we feel like we are surrounded by family.
Located in an iconic building on Gran Vía, Cines Capitol is a classic example of a good old fashioned neighbourhood cinema. There are three rooms where you can watch the latest releases. It is often chosen by national and international directors for premiering their films. You have probably seen this cinema's famous façade behind international movie stars on TV.
This cinema is a cultural and cinematographic space named after the great director Luis García Berlanga. It has a capacity of 233 seats and is equipped with state-of-the-art technology. Here you can watch unique film cycles, specialised festivals and the best shorts and documentaries. It also often hosts exhibitions, concerts and theatre performances.
Four cinematographic spaces that have not lost their charm where you can watch the latest releases as well as other films that do not usually make their way into the more commercial movie theatres.
Categories: Cultura Madrid
« Merienda: Madrid's latest must
3 exhibitions you cannot miss in Madrid »