3 must-visit family friendly museums in Madrid
Madrid is a city with a wide variety of museums to suit all tastes. If you are looking for a safe, family-friendly plan, you can't go wrong with one of these cultural spaces. Adults and children are bound to enjoy these three museums.
National Natural Science Museum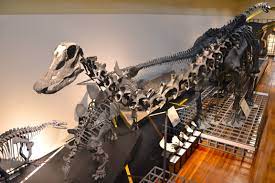 This museum in Paseo de la Castellana boasts over 6 million insect, molluscs, fish, amphibians, reptiles, birds, mammals, fossils, minerals and rock specimens.
The permanent exhibitions have been grouped into three large spaces, one dedicated to natural history (where you can see different aspects of biological evolution, including human development and how humans interact with their surroundings); another dedicated to the Mediterranean Sea (including biological, ecological and cultural aspects); and one final section which teaches us about the former Royal Natural History Office.
Kids will love the replica of the Diplodocus dinosaur, a gift to King Alonso XIII from American millionaire Andrew Carnegie.
Visit this museum free of charge after 17:00.
National Archaeological Museum
Come and discover all civilisations from the pre-historic age to the XIX century at the National Archaeological Museum. What can you find in this museum? Greek ceramics, Ancient Egyptian relics, Visigoth votive crowns and Hispanic-Islamic ivories, and much more. However, one of the most exceptional pieces are the Lady of Elche sculpture; Treasure of Guarrazar, the most extraordinary Visigoth precious metal specimen; the Pyxis of Zamora, a Hispanic-Islamic ivory masterpiece; or the collection of Greek pots.
Visit this museum free of charge on Saturday afternoons and Sunday mornings.
Madrid Planetarium
A perfect opportunity to take off into space and discover its history. In the Planetarium you can enjoy a starlit concert, different exhibitions about the universe and expert-led stargazing. In the Projection Room you can follow different audiovisual guides and a full-dome video system to take us inside the projection.
Tickets cost 3,60 euros for visitors over 14 years old and 1,65 euros for children under 14 and adults over 65. Children under 2 years old can visit free of charge if they are able to sit on a parent's lap.
Three cultural options for all the family. If you still don't have anywhere to stay when you visit Spain's capital, discover our fantastic offers.
Categories: Cultura Madrid
« Madrid's first outdoor escape room
Madrid's best pools when you fancy a refreshing dip »