Madrid's best pools when you fancy a refreshing dip
In summer, there is no better way to beat the heat than by going for a refreshing swim. Even though Madrid is not coastal, you still have a variety of 'cool' options to choose from. Here is a list of some of the best pools where you can spend an enjoyable day.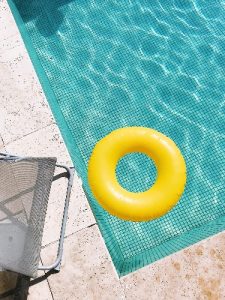 Photo by Jubéo Hernandez on Unsplash
Vicente del Bosque Sports Complex
Situated in the La Paz neighbourhood, this sports centre has two 50m pools and a children's pool, ideal for our youngest guests. A perfect family plan for a hot day, with the Four Towers in the background. The sports centre is over 70.000 m2 and also offers other summer sports such as beach volleyball. It is open between 8:30 – 20.30 every day in summer.
Casa de Campo Sports Complex
As its name indicates, this sports centre is located in Casa de Campo. It has recently been reformed, although the gym and indoor pool remain closed. It has a 33m pool, a 50m pool and a children's pool. It is open Monday – Sunday between 11:00 – 20.30.
Discover this city centre paradise right in the heart of Malasaña – perfect for cooling off or enjoying a cocktail with friends. It has an impressive pool from which you can admire the city, a cocktail and smoothie bar and a restaurant. It is open Monday – Thursday between 16:00 and midnight, and Fridays between 14:00 and midnight.
Complutense University Swimming Pool
One of Madrid's most popular pools. Surrounded by nature in at the heart of the University Campus, you will find two huge pools and a grassy, tree-lined terrace where you can relax after your swim. There are also places to buy food and refreshments if you haven't brought anything with you.
Canal de Isabel II Sports Complex
One of the newest facilities on the list, with a total surface area of 40.000 m2. It has an Olympic sized pool and a children's pool, sandy area, sun terrace and café. It is open Monday – Sunday between 8:00 – 22:00.
Five options to beat the summer heat and avoid missing the beach if you are spending summer in Madrid.
Categories: Deportes Madrid
« 3 must-visit family friendly museums in Madrid
Discover Madrid's only blue-flag beach »