Where to go for the best brunches in Madrid
In these days of the Covid virus, we have become more used to going out and making our plans by the light of day. Here is the perfect plan for these times, enabling us to enjoy ourselves with friends, our partner or the whole family, always in compliance with the social restrictions which can even add to the pleasures of the table. Here is how to enjoy the best brunch in Madrid.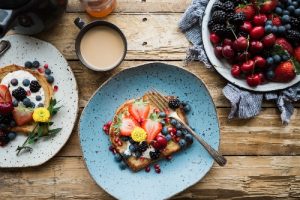 Photo by Brooke Lark on Unsplash
Though the term "brunch" – a combination of the English words "breakfast" and "lunch" – has still not been listed in the dictionary of the Royal Spanish Academy, it is an increasingly popular activity in the capital city of Spain. Here are our favourite brunch restaurants.
A good breakfast is guaranteed wherever the coffee is the principal focus of interest. The coffee here is so good, their motto is "you will learn to take coffee without sugar". Another of their selling points is the brunch served on weekends. It consists of a sweet starter (whole wheat croissant with seeds or home-made sponge cake); a main dish (such as, notably, avocado toast with organic poached egg; salmon bagel with crème fraiche, avocado, mozzarella, tomato and pesto courgette carpaccio; or pancakes with fresh fruit and maple syrup, or banana and homemade chocolate ganache; orange juice or a cocktail; and an organic tea or one of their coffee specialities.
About halfway along the Castellana is a place where you get one of the most abundant brunches in Madrid. On weekends, they offer a menu of 14 dishes and drinks. Would you like to know what these dishes consist of? Hot croissants just out of the oven, a toasted bread loaf, natural yoghurt with granola and fresh fruit, poached eggs, Hollandaise sauce, smoked salmon, Iberian ham, grated seasonal tomatoes, diced cow's butter, fresh cheese, diced avocado, home-made marmalade of seasonal fruit, freshly squeezed orange juice, and coffee or infusion. This copious menu is priced at €25 per person.
This establishment specialises in typical English brunches. It also features an inviting indoor patio. There are two complete menus every day of the week: the "full brunch" and the "mini brunch". The full brunch begins with natural orange juice, a mimosa or a glass of cava, among other drinks; coffee or tea; a yoghurt with fruit, croissants and bread with marmalade and grated tomato; and a main course (you can choose between eggs Benedict on an English muffin, accompanied, if you wish, by salmon or avocado), a complete wrap (there is also a vegetarian option) and two salad options. The mini brunch offers the same drinks, but only one dish (either sweet or savoury). The full brunches are €19, while the mini options are €14.
At the Habanera, you'll feel as if you had just been to Havana itself. With an exotic Cuban-inspired decor, this establishment offers a delicious brunch on Saturdays and Sundays between 11:30 and 13:30. The brunch menu consists of a pot of yoghurt, granola and fruit, poached eggs, croissants fresh out of the oven, terrine with butter, fresh cheese, smoked salmon, a loaf of bread, natural grated tomato, diced avocado, home-made marmalade, freshly squeezed orange juice and coffee or tea. This menu is priced at €25 per person.
Have you tried any of these? Which is your favourite? If you haven't tried them, take advantage of the coming winter weeks and explore them at your own pace.
Categories: Uncategorized
« Sushi hamburgers? It's possible now, in Madrid
Spain's largest climbing wall is in Madrid »