Spain's largest climbing wall is in Madrid
Climbing is currently one of the most popular sports in Spain. Luckily, in Madrid we have parts of the Guadarrama mountain range where we can practise this sport. But in the city of Madrid there is also a wide range of climbing walls to enjoy this activity without having to jump into the car.
One of them, Sharma Climbing Madrid, has the largest climbing wall in Spain. It is in the Canillejas neighbourhood, on Julián Camarillo Street, 55. It is named after Chris Sharma, considered by many to be the world's best climber.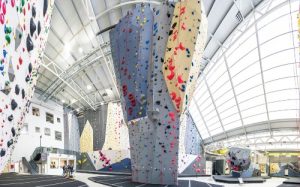 It contains 4,000 square metres of climbable surfaces up to 19 metres high. It also has 150 blocks and 160 routes you can tackle, an official 30-metre-wide bouldering wall for competitions, a kilter board, a campus board and two IFSC-certified speed routes.
What's more, you can also find a gym-school for kids and adults, a children's play area, activities and competitions, and a bar with views over the climbing walls. There is also a 400-metre terrace that hosts all sorts of events.
Other climbing walls in Madrid
You can also find other smaller climbing walls in Madrid where you can practise your climbing skills. Here are the three best ones in the city:
Soul Climb Leganés. Here you will find one of the best bouldering walls with all sorts of vertical and 3D surfaces, as well as more than 1,500 metres for climbing and a special climbing area for children over 4.
Climbat X-Madrid is notable for its more than 1,000 square metres where you can climb with a rope or a belay device. What's more, the youngest members of the family can sign up to the Clip'n climb challenge, a climbing circuit for children over 4 that turns this sport into a game for them to enjoy.
Sputnik Climbing has 100 different routes for climbing with a rope, a Moon Board, a nice collection of pull-up boards and a training cage, and a 500-square-metre bouldering area where every week new blocks are designed for you to practise a wide range of difficulties and styles.
In all these climbing gyms you can learn to climb or practise one of our favourite sports in a safe environment where you are bound to have lots of fun.
*Photo from the Instagram account of Sharma Climbing Madrid.
Categories: Eventos Madrid
« Where to go for the best brunches in Madrid
Where to eat the best torrijas in Madrid »