Sushi hamburgers? It's possible now, in Madrid
Over the past few years, sushi has become one of the most popular Asian dishes in our country, competing with other famous foods such as American hamburgers. But what would happen if we were to combine both dishes into one? The city of Madrid, the capital of Spain, is about to show us.
At Calle Alcalá 123 is the Tokyo Sushi Burger, a restaurant offering the perfect combination of the taste of hamburger and the sophistication of sushi. At first sight, these dishes may look like ordinary hamburgers, but in reality, the hamburger bun in no way resembles what we are used to: rather, it is a combination of rice and sushi. You can choose between four different types of bun: katsu rice (natural rice with sushi-style sesame seeds), pan-fried golden rice, panko rice and panko cheese rice.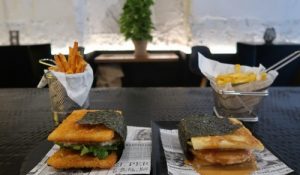 A menu with tastes that will surprise you
And what might we find on the menu? Daring and peculiar mixtures based on combinations of very precise sauces and ingredients that are always just right. One of their most famous hamburgers is called the Extremadura, made with Iberian pork meat, pickles with vinegar, coriander, mango chutney and Pommery mustard. There are also other original hamburgers such as the UK, the American and the Vancouver.
Vegetarian and fish hamburgers, too
Another surprising mixture is the fish hamburger, which has the usual sushi taste, but with a hint of something different. Also on the menu are the Osaka burger, the Austral hamburger, the Alaska burger and the Mediterranean burger, with a variety of fish and sea foods, such as the sea bass, salmon, tuna and shrimp
The menu also features a vegetarian option: the Middle Eastern burger (with falafel, refined tomato sauce, radish, pickled onion, feta cheese and yoghurt sauce with sesame seeds).
Now fill your plate with a bit of garnish
You can accompany your hamburger with some of the four garnishes featured on the menu: wakame salad, fried sweet potato, edamame and fried potatoes.
If you're looking for a mixture of tastes and you love hamburgers and sushi, don't pass up this opportunity to try something new and exciting that only hit the Spanish capital a few weeks ago.
Categories: Gastronomía Madrid
« "Pinta Malasaña": urban art returns to Madrid
Where to go for the best brunches in Madrid »