Discover Madrid's only blue-flag beach
You must have heard the lyrics of this popular song more than once: "Vaya, vaya, aquí no hay playa". As indicated in these lyrics of the band The Refrescos, we don't have a beach in Madrid – or do we? The fact is that the San Juan reservoir is not a beach as we know it, but it does have a blue flag. In this post we tell you what it's like.
Once again this year, the San Juan reservoir has obtained its blue flag, a distinction awarded by the European Foundation for Environmental Education. Specifically, it has been awarded to the Virgen de la Nueva beach, located in Martín de Valdeiglesias. Although we don't have a sandy beach in Madrid, this area is a good option for those of us who spend the summer in Madrid and want to cool off a bit.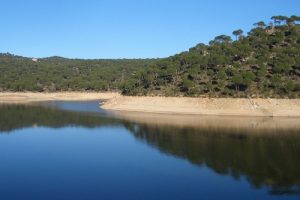 The "playa" of Madrid
Known as the "beach of Madrid", Playa Virgen de la Nueva is an area suitable for bathing. It is located in the unique surroundings of the San Juan reservoir. It is divided into two areas, one that is equipped for bathing and the other for boats. It has life-saving services.
This is the perfect plan to enjoy with the youngest members of the family, as bathing on this beach is completely safe. It is also the perfect place to enjoy a nice day out with friends or your partner.
Enjoy a wide range of water activities
All around the reservoir you can enjoy a wide variety of activities such as water skiing, canoeing, kayaking, banana boats or boat rides. In addition, around this beach, you can do other sports such as hiking, climbing or cycling.
Restaurant areas
In the San Juan reservoir you will also find several restaurants with a wide variety of options, from a full menu to mixed dishes or sandwiches. You can also take your own food and just buy a cool drink or an ice cream.
How to get there and where to park?
To get to this area, you have to take the well-known Carretera de los Pantanos, which is the M-501. From there, you will have to take the M-957 (the Virgen de la Nueva road), to go directly to the beach. If you are going during the summer and you want to park quietly, we recommend you to get up early because this area is usually very busy.
And if you want to take advantage of your stay in Madrid to get to know the city, there is nothing better than staying right in the centre of the capital. You will find the best offers at Hotel Moderno.
*Image extracted from Turismo Madrid.
Categories: Deportes Madrid
« Madrid's best pools when you fancy a refreshing dip
The most impressive natural spaces in Madrid »