Discover the best karaoke bars in Madrid
Going to a karaoke bar is one of the most fun things to do with friends. Madrid has a wide range of venues where you can put your musical skills to the test. If you suffer from stage fright, don't worry, you can also find options where you can book your own room and sing in private with your friends.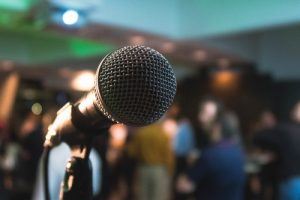 Photo by Kane Reinholdtsen on Unsplash
Inspired by the private rooms found in Asia, this karaoke has two locations, one on Paseo Recoletos and the other on Calle Luchana. Both have private rooms where you can sing in complete privacy and freedom. They have rooms for 3, 6, 8, 12, 15, 18 and 25 people. They also have a varied menu of cocktails and snacks to enjoy while you test your voice. They also have a catalogue with more than 20,000 songs and you can also create your own playlist with your favourite music before the session. All you have to do is book your room and start singing.
Located in the Chueca neighbourhood, PlayBack Madrid also has eight private rooms, each with a different theme and decoration. For example, there is the Abba-inspired Dancing Queen room or the more Madrilenian Cruz de Navajas. You can also enjoy their signature cocktails and delicious fusion cuisine. The different rooms can accommodate up to 16 people. It's the perfect place to celebrate an event or just have fun with friends.
Located on Calle Huertas, this is a classic of Madrid nightlife. It has a repertoire of over 30,000 songs, including some of the most popular hits of the moment. They also have an extensive cocktail menu. Although they don't have private rooms, Cheers Karaoke has a large space where you can celebrate events or special occasions. It is so characteristic that you have to sing at this karaoke bar at least once in your life.
Three suggestions for having a good time with friends or celebrating events such as birthdays and stag and hen parties. Do you know any other karaoke bars in Madrid?
Categories: Discotecas Madrid, Fiestas Madrid
« Carnival comes to Madrid
Enjoy a unique Father's Day in Madrid »