Carnival comes to Madrid
February is not only the month of love, it's also the month of Carnival. This year, Madrid will once again be filled with music and colour to celebrate this festival in style. From Saturday 18 February to Ash Wednesday (22 February), there will be plenty of activities for all ages. Here are the ones you simply can't miss.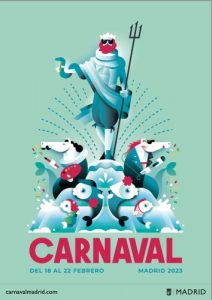 Grand Carnival Parade and traditional opening speech
The Grand Carnival Parade returns to the streets of Madrid. It will take place on Saturday 18 February at 12 noon and will be led by members of the famous Yllana company. The parade will start from the Arganzuela Footbridge and end at the Greenhouse on the Explanada Negra. More than 100 artists will take part in the parade, including tightrope walkers, swordsmen, jugglers and skaters. There will also be cultural groups from six countries (Brazil, Bolivia, Ecuador, Colombia, Argentina and Chile).
Once the Grand Parade is over, the traditional opening speech will take place on the stage located on the Explanada Negra. This year it will be read by Madrid actor Fernando Gil, currently starring in the Netflix series Machos Alfa.
Concerts at Matadero Madrid
Matadero Madrid is once again the epicentre of Carnival. On Saturday 18, you can enjoy several concerts by artists and DJs, who will get you dancing from 2.30 pm onwards. Taking the stage will be multi-genre musician and DJ David Purón, DJ Adrián Lefreak (Adrián López), Jimena Amarillo, Varry Brava and Laura Put.
The "manteo del pelele" and the meeting of murgas and chirigotas (traditional street bands)
On Sunday 19 at 11 am, the popular "manteo del pelele " (blanket tossing a puppet) will take place to the sound of coplas and melodies typical of Madrid Carnivals, performed by the cultural association Arrabel. The XV Encuentro de Murgas y Chirigotas (street musician performance) is also held on this day.
The Burial of the Sardine
On Wednesday 22 February, Carnival comes to an end with the traditional Burial of the Sardine. There is a procession from San Antonio de la Florida to the Fuente de los Pajaritos in the Plaza de las Moreras in the Casa de Campo. This year we will also be able to enjoy the exhibition 'Sardine. From Goya to urban art: 250 years of the burial of the sardine.'
Enjoy all the activities organised this year for Carnival, and if you're taking the kids, don't forget their costumes!
Categories: Fiestas Madrid
« 3 ideas for a unique Valentine's Day in Madrid
Discover the best karaoke bars in Madrid »