Discover the best outlets in Madrid
A new season is approaching and it's time for a change of wardrobe. In Madrid we have a wide variety of shopping options for all budgets. But if you like top brands and don't want to spend too much money, don't miss these outlets in Madrid.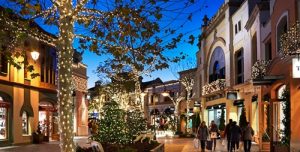 This outlet is the best known and most popular in the city. It is located in the town of Las Rozas and offers more than 100 top brands, including luxury brands such as Armani, Loewe and Jimmy Choo, as well as more affordable brands such as Bimba y Lola, Tous, Samsonite, Scalpers, Rituals and Textura. The good news is that you don't have to wait until the sales to get extraordinary discounts, as you will find items at 70% off the original price all year round.
Las Rozas Village is the perfect place for a day out shopping. As well as being set in a small village atmosphere, it also offers a wide variety of dining options. These include Cristina Oria's kiosk with light dishes such as ham and truffled cheese toastie and truffled mortadella focaccia, the Terrace by Arzábal, with a food truck offering reinvented sandwiches and gourmet burgers and fantastic views of the sunset, and Mentidero Sal y Brasas, serving quality products and your favourite grill recipes. You can also have breakfast or a snack at Starbucks.
The Style Outlets
This chain has several outlets throughout Spain. There are three in Madrid: one in Getafe, another in Las Rozas and a third in San Sebastián de los Reyes. It sells a variety of brands, including Nike, Adidas, Puma and Converse, ideal if you plan to start exercising again after the summer holidays. You will also find outlets of our most popular brands such as Kiko, Parfois, Mango, Calzedonia and Stradivarius. For the little ones, there are shops such as Mayoral and Nanos. You can take a break from shopping at the Chatter Café.
The last of the outlets on our list is located in Leganés and features more than 130 shops and 2,300 parking spaces. Here, you can find popular brands such as Benetton, El Corte Inglés, Décimas, Multiópticas, Prenatal, TEDi and Tuc. Sambil Outlet stands out for its wide variety of restaurants including 100 Montaditos, Foster's Hollywood, Cantina Mariachi, Burger King, Lizarran, Llaollao, Taco Bell and Vips. You can also end the day by watching a film in one of the 12 cinemas with Dolby Atmos technology. And if you're going with children, you'll find a play area with trampolines for all ages at Urban Planet.
All these outlets are perfect for filling your wardrobe at the best prices thanks to fantastic discounts. If you live outside Madrid, but you want to enjoy a weekend of shopping, don't miss the offers we have prepared for you at Hotel Moderno.
Categories: Shopping Madrid
« La vera pizza napoletana can be eaten in Madrid
Enjoy the Aperol Spritzeria party in October »