La vera pizza napoletana can be eaten in Madrid
There are many ways to prepare pizza in Italy, but if there is one method that stands out, it is the Neapolitan method. This preparation technique has been recognised as an intangible cultural heritage of humanity. The origins date back to the mid-17th century and the dough is different in terms of the time and method of fermentation, as well as the baking time. It is a pizza characterised by a spongy and thin dough but with high edges. If you want to try one, here are the Italian restaurants that serve vera pizza napoletana.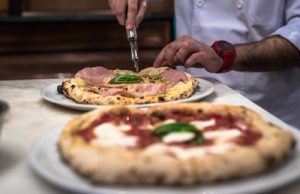 This Italian restaurant is a project by two brothers from Naples with a shared passion for Italian cuisine. Their Neapolitan pizza has won an award as the best in Spain and the third best in Europe. Winning an individual award, their Diavola de Leon pizza is an Italian-Spanish fusion with tomato sauce, mozzarella, black olives, Leon chorizo, slices of Parmigiano Reggiano, Guglielmi Biológico extra virgin olive oil and basil. The menu also includes daily delicious fresh pasta, such as spaghetti alla carbonara and cacio & pepe. For dessert, do not miss their traditional tiramisu.
Another of the most famous Neapolitan pizzas in Madrid is by the pizzeria Grosso Napoletano, which also offers gluten-free options. Their pizzas are based on three main characteristics: thin and elastic dough, thick and fluffy edges and 100% Italian ingredients. Their pizzas include the Diavola (San Marzano tomato base, spicy Neapolitan salami and mozzarella), the Ofelia Tartufona (Grana Padano cream base, fiordilatte mozzarella, truffled mortadella and parmesan flakes) and the Pomo d'Oro 2020 (San Marzano tomato base, semi-dried tomatoes, marinated cherry tomato, burratina and pesto) On the dessert menu, as well as tiramisu, there is a delicious Nutella pizza.
In the heart of Calle Velázquez, we find this Italian restaurant with an elegant and sophisticated atmosphere. Their pizzas also follow the pizza napoletana recipe and include the Calzone (San Marzano tomato base, ricotta, mozzarella, cooked ham and spicy salami) and the Bufalina (with San Marzano tomato, buffalo mozzarella, olive oil and basil). Don't miss their special pastas either, which include the Pappardelle ai frutti di terra (with dried tomato, boletus, rocket, pine nuts and a touch of San Marzano tomato) and the Gnocchi alla Vicentina (with burrata cream, prawns and datterino tomato). Desserts include Nutellotto (mascarpone cream with biscuit base and Nutella) and Cannolo Siciliano (crunchy tube-shaped dough filled with ricotta cream with chocolate chips and candied fruit).
Now you can say you've tried the vera pizza napoletana without going to Naples. Which is your favourite?
Categories: Gastronomía Madrid
« Family plans for the summer in Madrid
Discover the best outlets in Madrid »