Enjoy the Aperol Spritzeria party in October
Aperol Spritz is an Italian drink that is already well established in Spain. It is the perfect drink to have after work while enjoying some delicious Italian nibbles. It has a characteristic orange colour, a slightly bitter taste and just three ingredients: Aperol, prosecco and soda. Now, during the whole month of October, you can enjoy this refreshing alcoholic beverage at the Aperol Spritzeria, a new pop-up venue with a wide variety of food and entertainment on offer.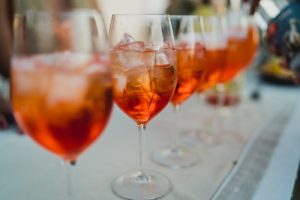 Photo by Federica Ariemma on Unsplash
This new concept that fuses leisure and gastronomy will be held from 29 September to 27 October at Bocanegra, one of the most popular terraces in Madrid, located in the heart of the city centre. It is the perfect place to unwind after a long day's work or to take a break during a visit to Madrid.
Every day, there is a delicious menu of tapas on offer, perfect to accompany your Aperol Spritz. The menu is a fusion of traditional cuisine with a modern and Asian twist. Don't miss dishes like the yakitori chicken skewers, vegan spring roll, japo bravas, triad of mini burgers, beef and jalapeño croquettes or crispy beef teriyaki.
Italian nibbles or brunch
Every Saturday from 7 to 9pm, they offer an Italian aperitivo. For only 15 euros, you can enjoy the best Italian gastronomy with a delicious selection of dishes including a board of Italian cold meats and cheeses, mini prosciutto and spinach pizzas, mozzarella sticks with Bocanegra sauce, assorted focaccias, tomato and mozzarella skewers with pesto and Italian pasta stuffed with goat cheese and figs. All accompanied by an Aperol Spritz.
On Sundays 2 and 16 October, there is a delicious brunch in the purest 'made in USA' style. The menu, which costs 20 euros and also includes an Aperol Spritz, consists of a sweet dish (a choice of assorted mini-doughnuts or pancakes with syrup), a main course (a typical American dish with bacon, fried eggs, sausage and potatoes or eggs Benedict with salmon or avocado) and a dessert (coffee or tea or a typical American cookie).
Signature cuisine
Another activity not to be missed is the signature cuisine event, which will take place on Wednesday 5, 13 and 19 October from 7 to 9pm. You will be amazed by the delicious tapas prepared by renowned chefs such as Gipsy Chef and Clara Diez, and every dish can be paired with a refreshing Aperol Spritz. Each day offers a different experience: aperitivo workshop (day 5), Italian cured meats (day 13) and cheese tasting (day 19).
This new pop-up created by Aperol Spritz just for the month of October is perfect for enjoying the best gastronomy accompanied by one of the alcoholic beverages of the moment. If you want to visit it while you are in Madrid, stay at Hotel Moderno, just a few steps away from this fun and delicious experience. Discover all the offers we have prepared for you on our website.
Categories: Gastronomía Madrid
« Discover the best outlets in Madrid
Where to eat the best Coronas de la Almudena »