Discover the best restaurants in Madrid for having food delivered to your home
Though the good weather has finally reached the Spanish capital and we would all like to sit on a terrace or have a picnic in one of the city's many big parks, having food delivered to your home is still an important alternative in times of Covid. That is why you should save this post in your favourites, as we are going to explore some of the best restaurants that can deliver their best dishes to your home.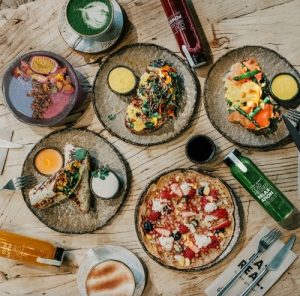 In their menu you will find real whole foods with no artificial preservatives or refined sugars. The products are local and seasonal. Their menu features different dishes, such as market plates (with protein) or garden bowls (salads). You should also check out their delicious desserts, like the raw chocolate duo or the matcha love cheesecake.
Delicious American food to enjoy at home. Its delivery menu features starters like cheesemosos (batter-breaded provolone cheese sticks) and corndogs. Among their many burgers and sandwiches, we recommend you try Archie's (frayed beef, melted gouda cheese and an essential touch of coleslaw), Woody (pastrami with Dijon mustard) and Hemingway (the classic burger: 200g of beef with onion, melted cheese, BBQ sauce and mayonnaise). Some of the most noteworthy desserts are the New York Cheesecake and the homemade cookie.
This restaurant offers a new concept of Mexican food that brings together the best Spanish products with real Aztec ingredients. Discover its delicious burritos with recipes that combine original creations with classical recipes, such as the suckling pig taco with Oaxaca cheese or the glazed bacon taco with chipotle and tamarind. Other dishes you cannot miss out on are their homemade guacamole with tortilla chips, red tuna and avocado toast and lime-passion fruit cake with raspberry powder.
La Gran Familia Mediterránea (Dani García)
Dani García presents this delicious delivery service boasting an extensive menu catering to all tastes. In fact, to quote the chef himself, the idea was born from his own experience: "Whenever we ordered food, my youngest daughter wanted sushi, my eldest daughter wanted hamburger and my wife wanted a salad, which made things very difficult." That is why at Gran Familia Mediterránea you can find a wide range of dishes from different cuisines: Shanna (healthy food), Bocatas García (sandwiches), Molta Mamma (Italian food), Tita Brava (traditional food), Mada Wasabi (Japanese), Pancho Suey (Asian fusion cuisine), Sr. Brasas (hamburgers) and Mixter (cocktails). You will be spoilt for choice.
Our last recommendation is one of the best pizzerias in Madrid. Grosso Napoletano is known for preparing authentic Neapolitan pizza based on the four pillars that make it truly special: letting the dough sit for 48 hours, a handmade refractory stone oven from Naples, high-quality ingredients imported directly from Italy and Neapolitan pizzaioli. All their pizzas are delicious, but our favourites are the Ovo Morales (pizza bianca with mozzarella, egg yolk, guanciale, slices of authentic pecorino romano and a touch of black pepper) and Ofelia Filomena (pizza bianca with Grana Padano cream, mozzarella, pistachio bologna and slices of Parmesan cheese). Of course, we cannot forget to mention their famous Nutella pizza and white tiramisu. And their latest novelty is that you can now order gluten-free versions of their pizzas.
Five different places for anyone who wants to enjoy a Madrid restaurant experience without having to leave the house. Which is your favourite?
*Photo from the Instagram profile of Honest Greens.
Categories: Gastronomía Madrid
« Where to eat the best torrijas in Madrid
A picnic in one of the biggest parks in Madrid: there's no better plan! »