Where to eat the best torrijas in Madrid
Torrijas are a typical Holy Week dessert. A traditional dish that can be found in any home. You can follow the traditional recipe (bread soaked in milk, dipped in egg, fried in oil and scented with syrup, sugar and cinnamon) or buy it in one of the finest restaurants and pastry shops in the Spanish capital. If you love this delicious food, check out the following places.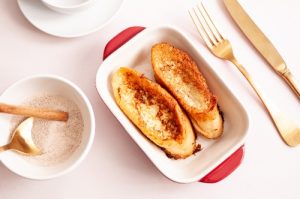 Photo by Vanesa conunaese on Unsplash
The best torrija in Madrid
The 4th Torrija Competition of the Community of Madrid announced that the best traditional torrija recipe in Madrid is that of Paco Pastel, a pastry shop in San Lorenzo del Escorial. Its victory led them to sell up to five thousand torrijas in a single weekend. Its secret, a traditional recipe (his father's) available for €2.3.
Another prize-winning torrija
Another prize-winning torrija this year has been that of Hotel Wellington. They have two options, a traditional one and one with an innovative twist: double-fermented homemade bread, smoked milk, bourbon, vanilla, tonka beans, sugar, cinnamon, hide gelatine, green apple purée, caramelised hazelnuts, cotton candy and fennel. A surprising combination of flavours.
The torrija of Moulin Chocolat
In front of Retiro Park we find this French-inspired pastry shop. Their torrijas are truly sensational because of their flavour and juiciness. They are made with brioche bread soaked all night in a sort of English cream made with organic milk, cream and cane sugar. But its biggest secret is that they are baked instead of fried. You simply cannot miss this wonderful recipe.
The traditional recipes of Pastelerías Mallorca
One of the most popular torrijas in the Spanish capital. It is made with special bread, milk, cinnamon, lemon and a good frying. You can also buy the bread to make your own torrijas at home or try their delicious chocolate torrijas. One of the most traditional and delicious options.
Four suggestions for enjoying one of the most traditional sweets of the Holy Week. And as we won't be able to leave the Community of Madrid, at least we can enjoy these special dates' finest traditions.
Categories: Gastronomía Madrid
« Spain's largest climbing wall is in Madrid
Discover the best restaurants in Madrid for having food delivered to your home »