Where to eat the best Coronas de la Almudena
One of the most popular traditional pastries in Madrid is the "Corona de la Almudena". It is a pastry in honour of the Virgen de la Almudena, patron saint of the city, who is celebrated on 9 November. For many, it is similar to the Roscón de Reyes, although it does not contain orange blossom water or candied fruit, nor does it have the same origins.
The Virgen de la Almudena is also the patron saint of the Guild of Confectioners, an institution that decided to make a dessert in her honour in 1978. The winner was the Corona de la Almudena, a type of crown-shaped pastry dipped in syrup and filled with custard, whipped cream or truffle. More than 290,000 units are currently sold in 600 bakeries. In this post we share our favourites.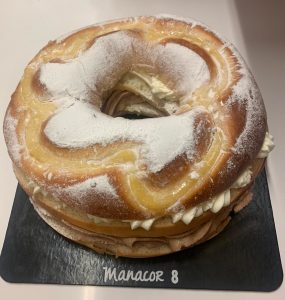 The owners of this patisserie are the Martínez Pérez family, who have been in the bakery business for more than eight generations. Their work is based on respect for the product, passion for the customer and responsibility towards society and the environment. Their Corona de la Almudena can be bought from the beginning of November. These unique pastries are bathed in a syrup made with orange juice, water and sugar, covered with apple glitter and sprinkled with pieces of almonds and sugar.
This bakery started in 2008 as a school specialising in bread and pastries, and in 2013 they opened their first bakery in Peñagrande. It is characterised by working with high quality ingredients, slow fermentation and gentle kneading. In fact, the Corona de la Almudena that they make every year is characterised by a slow fermentation with sourdough and yeast to which they add orange and lemon zest and butter, and decorate with candied orange, custard and almonds.
Another of the oldest bakeries in Madrid. It is run by brothers Pablo and Jacobo Moreno, the fourth generation of the family. Their motto is that customers should "feel as though they are always celebrating", which is why they place great importance on seasonal products, including the Corona de la Almudena in autumn. It is handmade with butter, eggs and flour and can be filled with cream or chocolate truffle.
Three suggestions for celebrating the festival of the patron saint of Madrid in the sweetest way. Which is your favourite?
Categories: Gastronomía Madrid
« Enjoy the Aperol Spritzeria party in October
Five ways to enjoy Madrid on a rainy day »