Where can you find the best Spritz in Madrid?
The Italian cocktail Spritz has become fashionable all over Europe and it is on the menu in an increasing number of venues in Madrid. This cult Italian aperitif with orange notes is made with Prosecco, Aperol or Campari and sparkling water. It is perfect for beating the heat on a terrace on a summer evening.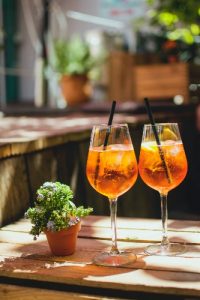 Photo by Julia Solonina on Unsplash
The history of this drink dates back to the 19th century when soldiers of the Austro-Hungarian Empire dominated the north of the Italian Peninsula. They found the wines of the region too strong and so they decided to dilute them with soda, calling them "spritz", which comes from the German "spritzen" meaning "to splash". Such was its success that it was soon consumed throughout Italy, particularly as an aperitif.
This Italian restaurant on Calle Velázquez is one of the most popular in Madrid. Its two interior rooms are decorated as if they were a Venetian palazzo and the jewel on the crown is the large garden terrace that is covered in winter and open in summer. Here you can try their own version of this cocktail called 'Bora Bora Spritz', with vermouth, cloves, cinnamon, laurel, star anise, hibiscus, orange juice and prosecco. The menu also offers a varied selection of delicious pizzas and pastas.
Rooftop terrace at Círculo de Bellas Artes in Madrid
This terrace has one of the best and most spectacular panoramic views of Madrid. It is the ideal place to enjoy a cocktail while enjoying the sunset. They offer a wide range of drinks, including a traditional Aperol Spritz. You can also accompany your drink with some of the delicious dishes from their snack menu, such as guacamole, hummus, patatas bravas or torreznos de Soria, among others.
As they say on their menu, you can try the best Spritz in Madrid in this Italian restaurant with an indoor lounge and a terrace for enjoying the summer evenings. Every Wednesday from 7pm to 11pm, you can enjoy this famous Italian aperitif with a variety of typical dishes such as pizza, focaccia and pasta, among others.
Florida Park Terrace
Another trendy spot in the capital is Florida Park, right in the heart of Retiro Park. The terrace is a delightful space near the iconic dome of King Ferdinand VII. Here you can enjoy an atmosphere of warm colours inspired by the oases of the Moroccan desert and the best cocktails, including the popular Aperol Spritz.
Four unique places where you can enjoy a pleasant summer evening with a refreshing Spritz, the ultimate Italian drink.
Categories: Gastronomía Madrid, Uncategorized
« The most entertaining museums in Madrid
Three refreshing ways to beat the heat in Madrid »