"Pinta Malasaña": urban art returns to Madrid
We all know that Malasaña is one of Madrid's most alternative neighbourhoods and also one of the city's most vibrant cultural areas. And now it is going to become an epicentre of art thanks to the initiative Pinta Malasaña. If you love street art, you cannot miss this wonderful exhibition. Keep reading to find out more about this fascinating project.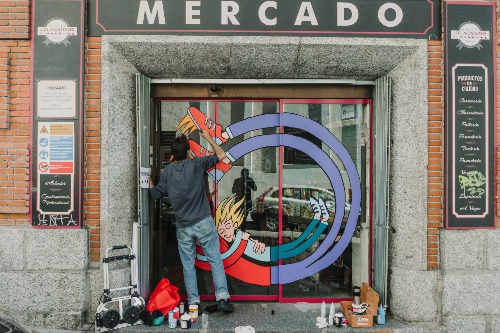 More than 50 artists have participated in the fifth edition of this initiative by leaving their mark on one of the most iconic buildings of this neighbourhood in the city of Madrid: Los Mostenses Market, an old market hall on the square of the same name originally built in the year 1875.
This exhibition has been organised through an open competition held by the local newspaper Somos Malasaña and the association Madrid Street Art Project. The artists that have taken part in this project submitted their artistic proposals, which were reviewed and later selected by the organisation. In this latest edition, as we mentioned in the last paragraph, the selected spaces were mainly Los Mostenses Market and a handful of Malasaña's bars.
For the participating artists, this street art initiative is an important opportunity to showcase their artistic talent in one of the most popular and alternative neighbourhoods in the Spanish capital. Among the people lucky enough to exhibit their work are a number of well-known urban artists, as well as illustrators, graphic designers and painters. The list includes names like Fitz Licuado, Elena Sanmiguel, elReina, Alba Bla, Nuriatoll, StoolStreetArt, Teje la araña, Max501, Guillermo JBueno and Lázaro Tótem.
Of all the artists who participated in this edition, only three received awards: De Tripas Aerosol, Yoshihito Suzuki and En mitad del medio came first, second and third, respectively.
We can provide you with a route to see the modern street art in one of Madrid's most popular neighbourhoods. A safe plan to see urban culture by renowned artists. Are you going to miss out?
Categories: Cultura Madrid
« The best soundtracks in Madrid by candlelight
Sushi hamburgers? It's possible now, in Madrid »