Merienda: Madrid's latest must
One of the moments we most miss from our childhood is the merienda; in recent years we have slowly replaced it with the "afterwork". But in the Spanish capital there is a growing number of places that are bringing this sweet tradition back to life. Today we want to introduce you to 4 cafés where meriendas have become an almost sacred tradition.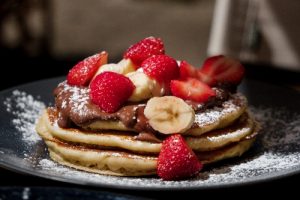 Photo by Portuguese Gravity on Unsplash
The chef Cristina Oria has taken things one step further by opening several restaurants in the Spanish capital. There we can enjoy a delicious merienda with her tasty waffles with chocolate and cream, grilled croissant with jam or her delicious cakes, especially her lemon cake, cheesecake and Oreo cake. If you prefer a savoury option, make sure to try her ham and truffle cheese toasties or her mini croissants with acorn ham. Order a nice cup of coffee, tea or freshly squeezed orange juice to go with your merienda.
The healthiest mid-afternoon snack on this list. Enjoy a rich and healthy merienda with its smoothies, bowls of fruit and oatmeal, or savoury bagels. They also have vegan and gluten-free options available: meriendas for all tastes. A merienda with no regrets.
Mistura is an ice cream shop with products that combine flavour and texture. Most of the products are natural, with no additives or man-made substances. You can try one of her curious ice cream flavours like caramel and fleur de sel or organic Japanese matcha green tea. You can also enjoy its delicious crepes, pancakes and waffles.
In the heart of Lavapiés is this intimate café specialising in coffee, as its name suggests. Don't miss their special coffees, including their ristretto with bitter chocolate, yoghurt espresso (with honey, yoghurt and espresso coffee) or a barranquito with milk (condensed milk, coffee, creamy milk and lemon zest). You can order something from the menu to go with your coffee: cookies, muffins, pastries and delicious homemade cakes. Vegetarian options available.
Four ideas that will make you remember those delicious meriendas you used to have at home after school.
Categories: Gastronomía Madrid
« The best places for drinking vermouth in Madrid
The best neighbourhood cinemas in Madrid »