The best places for drinking vermouth in Madrid
Drinking vermouth has become one of the most popular gastronomic experiences. As could not be otherwise, Madrid is the capital of this drink, and it contains many innovative places where you can enjoy a glass. Today we are going to explore the best places in the capital for drinking vermouth.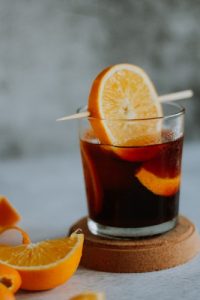 Photo by Gaby Yerden on Unsplash
In the capital's two branches of Saporem you can order homemade vermouth made only with Monastrel grapes (Jumilla DO) called "Marifeli". You can pair it with dishes made with ingredients fresh off the market, such as homemade Russian salad, a delicious tuna tataki with strawberries or the surprising peach and pea salad. Its delicious pizzas and steak tartar are also highly recommendable.
This vermouth bar is half grocer's shop and half restaurant. It is well-known among vermouth connoisseurs for having more than 40 national and international varieties. You can pair your drink with classic Spanish snacks like anchovies in vinegar, mussels or tuna belly, as well as other international dishes like poke bowls or bao.
Enjoy a delicious homemade vermouth in the heart of the district of Malasaña. The Lolina vermouth, also known as the ye-ye vermouth, is served in a Martini glass with an olive and a slice of orange. The red is made exclusively with the finest Monastrell grapes (DO Jumilla) and the white, with Macabeo grapes from the Mediterranean. You can pair it with a can of mussels in pickled sauce, guacamole or an assortment of Iberian ham shoulder and hard cheese.
La Colmada is many things at once: a wine bar, an alehouse, a vermouth bar, a neighbourhood bar and a grocer's shop. One of its specialties is vermouth served alongside high-quality cured meats, Galician conserves or horticultural products. You can also have a snack there or take it home.
In the district of Chamerí, you will find this tavern where you can enjoy a delicious vermouth on the terrace. It is served in a classic Martini glass that has been previously squirted with a gin spray scented with spices and vodka, and it comes with orange, ice and a touch of Campari. You can sip it between bites of potato omelette, hummus, Cantabrian anchovies with green pesto sauce and chicken empanadillas with guacamole.
Five different places in Madrid where you can enjoy one of the most popular moments of life in Madrid: the vermouth hour.
Categories: Gastronomía Madrid
« A tour of the best Spanish food without leaving Madrid
Merienda: Madrid's latest must »