The best Venezuelan arepas in Madrid
One of the things we like most about the capital of Madrid is that we can enjoy the finest international cuisine without having to leave the city. Today, as part of our world tour, we are going to travel to Venezuela to taste one of its most typical dishes: arepas.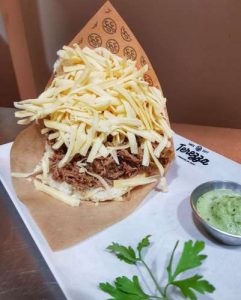 Kerid and Kevin are two Venezuelans who emigrated to Madrid 4 years ago and opened a restaurant they originally called 'Tepizzare'. Today, the aim of the place remains the same: to offer quality Venezuelan cuisine. But the name has changed to Terezza, in honour of their mother, who is called Teresa.
If there is one dish that stands out on the menu, it is the arepas, with 10 different types, including traditional ones such as the one with shredded chicken salad with avocado and mayonnaise, or the more innovative ones with crunchy pieces of fried pork, grilled cheese and cream, or the one with juicy chicken with tropical flavour and a base of pineapple and wasakaka. You will also find other typical Venezuelan dishes such as tequeños and cachapas. Among the desserts you will find the famous tres leches cake and chicha milkshake.
El Güero's menu offers some of the best examples of Mexican and Venezuelan cuisine. It is not a fusion of both cuisines; the restaurant has two different menus. In this post we are going to focus solely on the Venezuelan food and its main protagonist: arepas. Our recommendation is that you try the arepitas with a variety of fillings. Otherwise, you can always play it safe with their reina papada arepa with avocado, chicken and mayonnaise. In any case, you can choose from more than 10 different types of fillings. You can also find other typical dishes such as pabellón criado or cachapas. And to finish, nothing better than the typical Venezuelan dessert quesillo casero, made with eggs and condensed milk.
Its beginnings date back to 2012, when they opened their first premises in the centre of Madrid. Now, Arepa y Olé has become a well-known franchise for its fusion of Venezuelan and Spanish cuisines. On their menu, we can find highly original arepas such as the black bean, white cheese and banana arepa or the dogfish, white cheese and banana arepa. Also noteworthy are those christened with very local names such as the Segoviana (grilled meat, guayanés, tomato and avocado); the Extremeña (pork leg, guayanés, avocado and olé pink sauce), the Asturiana (minced meat and fried egg) or the Navarra (shredded meat, guayanés and avocado).
You can accompany your arepas with one of their two combos: the Combinado Olé (2 cheese tequeños, 2 fried yuccas, 2 mini arepas and 2 mini cachapas with cheese) or the Combinado Paisa (4 fried yuccas, 2 mini arepas and 2 mini arepas with corn). Lastly, you can't leave without trying the tequeños with chocolate or the papaya dessert.
And with these three proposals we bring our tour of Venezuelan gastronomy to an end. Soon we promise to bring you more international cuisine recommendations. Which would you like us to follow up with?
Categories: Gastronomía Madrid
« The best places to eat calçots in Madrid
Ideas for St Patrick's Day in Madrid »