The best places to eat calçots in Madrid
Calçotades are very popular in Catalonia and are usually held in the colder months of the year. Calçots, a type of spring onion, are the stars of one of the most famous gastronomic traditions in our country. Now we can eat grilled calçots with romesco sauce in the capital of Spain. If you also love these spring onions, here are four places where you can eat them.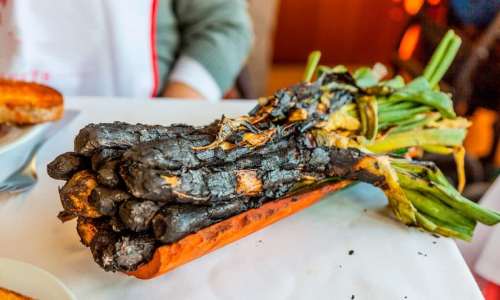 Gastronomic sessions at the Club de Tiro
The Club de Tiro, located in the unique setting of El Pardo, offers a delicious calçotada for groups of at least 20 people. To this end, they have prepared a menu in which the main attraction is the calçots. It also includes other dishes such as ham croquettes, a charcuterie board with bread and tomato and a main course of grilled meat. You also have different desserts to choose from, among them the popular crema catalana (Catalan custard) – a must!
Located in the heart of the Chamberí district, Lakasa has a variety of calçot that is native to the Vic area and is known for its sweeter flavour. It is prepared in the most traditional way: roasted in an oven over a naked flame just as it arrives from the vegetable garden, because, according to the locals, it is the apparent dirtiness of calçots during the cooking that gives their flavour nuance. They are served alongside romesco sauce, and the restaurant only bring 200 calçots a week, so hurry up if you don't want to miss out on this delicious delicacy.
This restaurant, located in Hoyo de Manzanares, is the perfect place to enjoy one of the most authentic calçotades in Madrid. At Calsot, you can take part in a gastronomic ritual that requires you to get your hands dirty, put on a bib and share a delicious meal with friends or family. Its menu includes several dishes such as salad, bread with tomato and Catalan sausages, calçots with romesco sauce and a combination of typical Catalan meats (butifarra sausage, grilled rabbit, lamb chops and Calsot's specialty chicken). Top the meal off with a crema catalana and wash it all down with wine or cava sangria. This menu costs 24 euros per person.
Another typical place in which to enjoy a good calçotada in Madrid is Can Punyetes. Here, calçots are grilled, as tradition dictates, and when the outer layers are all scorched and blackened, they are wrapped in several sheets of newspaper and left for half an hour to cook in their own heat. They are eaten by peeling the outer layers and dipping the calçot in the romesco sauce. You can also enjoy other typical Catalan dishes such as escudella, toast with tomato, esqueixada, butifarra and crema catalana.
With these four places, you can enjoy a beautiful gastronomic experience with one of the most popular culinary traditions of our country. And you, do you also love calçots?
Categories: Uncategorized
« A tour of the most geeky shops in Madrid
The best Venezuelan arepas in Madrid »