Three fun things at the Almudena festival in Madrid
On 9 November the city dresses up to celebrate the feast of Our Lady of Almudena, its patron saint. In today's post we're sharing three things for you to enjoy during this typical festival in Madrid, one of which is dedicated to those of you with a sweet tooth.
Celebration at the cathedral of Santa María la Real de la Almudena
The epicentre of this festivity is the cathedral of Santa María la Real de la Almudena. The religious ceremonies begin with a mass in honour of Our Lady of Almudena. Afterwards, the image of the patron saint is carried in procession from the cathedral to Plaza Mayor, but in the opposite direction. Some 80 'anderos' from the brotherhood of Jesús el Pobre are entrusted with carrying the image of Our Lady on their shoulders. During these days the traditional solidarity floral offering also takes place in Plaza de la Almudena.
Taste the 'corona de la Almudena'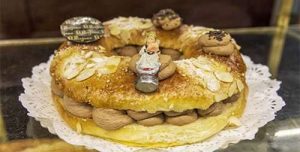 The history of this popular Madrilenian sweet dates back to 1978. That year the local confectioners' guild, of which Our Lady of Almudena is the patron saint, decided to organise a competition to create a sweet in her honour and, incidentally, to make it an indispensable item in the homes of the people of Madrid during this time of year. Thus, this cake, similar to the Roscón de Reyes, was born. It is typically filled with whipped cream or truffle.
Although you'll find it in most of the city's bakeries, in this post we recommend the ones we like most. At El Riojano they make them with cream, chocolate or capellini, while at Mallorca Pastelería you'll find the classic Chantilly and truffle versions. If you're looking for a 'corona' with a more modern touch, you can't miss the ones from La Duquesita, which are smaller and come with a wide variety of fillings.
A stroll through the Jardín Botánico
Our last suggestion for this festive season is the perfect plan for an autumn day: a stroll through the Jardín Botánico de Madrid. This lovely green space was created for Charles III by Juan Villanueva and the botanist Gómez Ortega in 1781. There you can stroll amongst more than 30,000 plants from all over the world, which are at their most splendid with the autumnal pattern.
These are the three suggestions to enjoy this Madrilenian festivity in a special way. And if you want to stay in Madrid during the celebration and you still don't have an accommodation, discover our hotel in the heart of the city.
Categories: Cultura Madrid
« The light show 'Naturaleza Encendida' returns to Madrid
The best veggie restaurants in Madrid »