The restaurants in Madrid that everyone will be talking about
Vogue magazine has just published a guide to the restaurants that have opened in recent months and are sure to be among the most popular in the capital. In this varied selection, we find new spaces by Michelin-starred chefs, restaurants that embrace the exotic and others that base all their cuisine on the finest ingredients. In this article, we highlight the ones that have most caught our attention.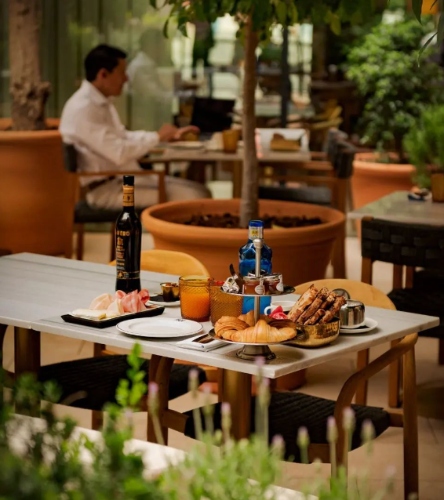 The best restaurant in Madrid in 2022, according to Vogue magazine. Mar Mía defines itself as an urban chiringuito that preserves the freshness and gastronomic customs of the Mediterranean in the heart of the city. It has two different menus. The more informal one offers a variety of dishes such as seafood, fried fish, salted fish, omelettes, cold meats and cheese platters and sandwiches. The restaurant menu includes rice dishes by Casa Elías, grilled fish, meat and the best seafood.
Much more than just a restaurant, Mar Mía is a dynamic and fun place that combines gastronomy and leisure in all areas. They have a team of resident DJs, led by Samuel Ivorra, who play the best music with two sessions every day, one in the afternoon (from 3pm to 8pm) and another at night (from 10pm).
This restaurant offers a new concept in cuisine, which they have called 'Mexiterranean'. It offers an extensive surf and turf menu that transports us to Mexico and the Pacific coast, with Mediterranean flavours enhanced by wood-fired ovens. At the helm of the kitchen is world-renowned Michelin-starred chef Andrés Madrigal. His menu includes traditional dishes with a twist, such as grilled cauliflower marinated in olive oil, lemon and fleur de sel; his homage to Casa Lucio (scrambled eggs with huitlacoche, Iberian jowl, guacamole cream, ranchera sauce and refried beans); Wild sea bass ceviche with tamarillo, passion fruit, coconut and corn mousse; and a variety of tacos such as suckling pig with pibil, guacamole and xnipek. Desserts include peach nicuatole with mezcal syrup and horchata ice cream, and pan perdido de elote with hazelnut ice cream and Aztec chocolate soup.
In the unique setting of Casa de Campo we find Villa Verbena. This restaurant-terrace is the perfect place to spend a pleasant Sunday. Situated on the shores of the lake, the menu is based on quality seasonal produce. Highlights include dishes such as steak tartar made from sirloin steak minced on the spot with traditional dressing; salmorejo of roasted peppers with marinated tuna; salad of homemade escabeche and gordal olives; scrambled eggs with red prawns; and grilled sausage with roasted garlic and tomato. Desserts include cheesecake and tiramisu.
Three gourmet restaurants that are sure to leave an impression, perfect for enjoying a pleasant meal with your partner or friends.
Categories: Gastronomía Madrid
« Five ways to enjoy Madrid on a rainy day