Pasea Madrid is the best way to discover Madrid
Madrid is undoubtedly one of the most beautiful European capitals. The city is home to great cultural wonders such as El Retiro, the now famous Paseo de la Luz (Madrid's first World Heritage Site), the Royal Palace and the Plaza Cibeles, among others. However, there are also other beautiful places that have largely evaded the limelight. If you really want to discover every last corner of the Spanish capital, Pasea Madrid is your best option.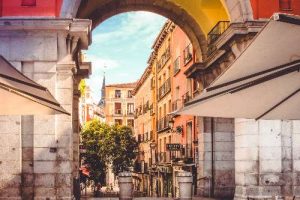 The Pasea Madrid Guided Tours Programme—organised by the Directorate General for Cultural Heritage of the Madrid City Council's Department of Culture, Tourism and Sport—is a great success. This is demonstrated by its more than four-year history. It was designed with a clear objective: to educate citizens on the importance of conserving and preserving cultural assets, and it has now become locals' and tourists' favourite way to get to know the city better.
What's new in the new edition
The first phase of the 2021 edition ended with a capacity of more than 25,000 people and more than 20 different itineraries. It was so successful that getting a place was a true ordeal. The second stage, from September to December, has begun, so if you want to secure your ticket, we recommend that you don't leave it until the last minute.
This new edition, with 14 routes, will allow us to discover some of Madrid's most emblematic districts, such as Vallecas, Villaverde, Tetuán and Carabanchel. In addition, there are three different itineraries to showcase the work of the Italian architect and engineer, Francisco Sabatini: Sabatini in Madrid, Sabatini at the court of Charles III, and Sabatini and the Madrid of the Enlightenment.
We'll also be able to visit some interesting places that are very popular with visitors, such as the Capricho Garden bunker, the viewpoint of the monument to Alfonso XII, the Beti Jai fronton (located in the Chamberí district, it was built in 1893 as a fronton for Basque pelota), the Paseo del Prado and Retiro Park.
We'll also be able to get a close look at the Madrid that was home to two great Spanish artists, Francisco de Goya and Antonio Machado. Through their eyes we'll be able to see what the city was like in their time, as well as discover some interesting facts about their lives and pastimes.
A fantastic way to get to know Madrid better, through unique tours with professional guides. If you already have your ticket, and all you need is accommodation in the city centre, don't miss out on the fantastic offers we've prepared for you at Hotel Moderno.
Categories: Cultura Madrid
« The Strawberry Train returns to Madrid
A tour of the most interesting sweets in Madrid »