A tour of the most interesting sweets in Madrid
The city of Madrid never ceases to surprise us every day. And the fact of the matter is that the Spanish capital boasts many interesting and exotic attractions of all sorts. Today we're going to visit the places in the city where you'll discover the most unique sweets, which you probably won't be able to find anywhere else in the country. Are you ready to discover them?
Pollofres
In the heart of the Chueca district, more specifically on Calle de Gravina, you'll find La Pollería, a peculiar, pink-walled establishment. Here you can try the famous pollofres, a waffle dough that takes on a phallic shape thanks to the waffle iron. You can add different toppings such as Nutella, white chocolate, dark chocolate or Kinder. All these sweets are served as a takeaway, with a wooden stick, and placed on a cardboard tray.
Fish-shaped ice creams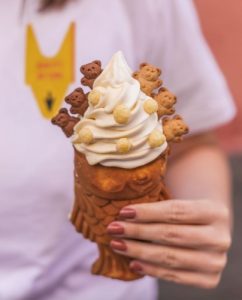 La Pecera, in the Malasaña district, presents an original and interesting ice cream experience: a waffle-textured cone in the shape of a fish with a delicious ice cream. It's known in Japan as taiyaki. It can be complemented with fun, quirky toppings such as cereals with chocolate, ground cinnamon sticks, candyfloss clouds or caramelised popcorn. You can also try their mini taiyaki-shaped cakes filled with peanut butter or Nutella.
Brioche gelato
Zúccaru is a pastry shop with two locations in the capital, one in Chamberí and the other near the Royal Palace. There you can try their delicious brioche with ice cream, following the traditional Palermo recipe (a milk bun filled with two scoops of ice cream). All their ice creams are natural, without preservatives or colourants. You'll also find other products suitable for gluten- and lactose-intolerant people, as well as 100% vegan options.
Mistura, the unusual way of making ice cream
The originality of Mistura lies not so much in the product they sell, but the way it's made. On a trip to India its founders discovered a very atypical way of making ice cream. They're all made with 100% natural raw materials (fresh milk, cream and ice cream ingredients such as pistachio, vanilla and chocolate, among others). The ice cream is spread on a quartz stone at -20ºC, and different toppings (chocolate, nuts, jam, honey, etc.) are gradually added and mixed with a pair of spatulas. This gives you a personalised ice cream with a unique texture.
Which idea do you find most intriguing? Have you tried any of them? If you know of any other original desserts sold in the city, we encourage you to share them with us.
*Image taken from La Pecera's Instagram profile.
Categories: Gastronomía Madrid
« Pasea Madrid is the best way to discover Madrid
Plans to enjoy the long weekend of 12 October in Madrid »