Plans to enjoy the long weekend of 12 October in Madrid
The first long weekend of autumn has arrived, and the capital of Madrid offers a wide range of leisure and cultural activities to make the most of these four days in the city. If you are one of those who have decided to spend these days in Madrid, then this is the perfect post for you. Read on!
Exhibitions: Homo Ludens and The Magritte Machine
CaixaForum Madrid is hosting the new exhibition Homo Ludens: Videogames to help us better understand the present that will last until 31 October. This exhibition provides a new perspective on the concept of 'gamer', presenting us with a videoludified world in which life and games converge increasingly every day. It is interactive and has six rooms with more than forty exhibits, from video games to works of art. The exhibition is open from 10.00 am to 8.00 pm (with entry every fifteen minutes). If you are a CaixaBank customer or under 16, the admission is free.
On the other hand, at the Thyssen Museum you'll find another interesting exhibition: The Magritte Machine. This exhibition, available until 30 January, is the first retrospective of René Magritte (1898-1967) to be held in Madrid. Here you can see more than 70 works of the great surrealist painter, including paintings and works on paper. The exhibition is topped off with a selection of photographs and home movies made by the artist himself.
The altar of the dead at La Casa de México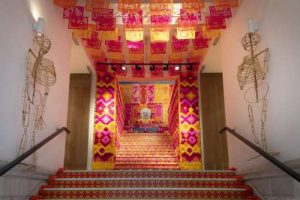 Although Halloween is still more than two weeks away, Casa de México starts celebrating it on 8 October with its Altar of the Dead, which has already become a must for this time of the year. The Day of the Dead is one of the most important Mexican traditions, in which Mexican families honour their loved ones who passed away.
To this end, families build their own altars so the living and the dead can temporarily coexist. If you want to visit one in the capital of Madrid, the Casa de México will surely surprise you. This year's altar was designed by Fátima Cabañas and decorated with papel picado. It has three main elements: the arches of the facade made with more than 300 flowers; a Huamantla carpet made by Oaxacan artists; and the tzompantli, a row of 130 skulls. You can book your tickets here.
These are the three options to better enjoy these days of rest and relaxation in Madrid. And if you are looking for accommodation in the heart of the city, we have the best options for you: at Hotel Moderno you will find the best offers.
Categories: Cultura Madrid
« A tour of the most interesting sweets in Madrid
The light show 'Naturaleza Encendida' returns to Madrid »